The Comp-lete Opinion
We only collect information we need, here's why
Personal information is an extremely important issue, and being in the competitions arena we see this question raised all the time. How much information is too much? We took a look at information we collect on joining us, and this includes First name, State and Gender ....... Read We only collect information we need, here's why
Comments (5)
Promoter's Choices Aren't Easy
As you'd expect, I have a fair deal to do with competition promoters, and the question I get asked most often is "what prize recommendations?" Fairly simple question you'd think ..... anything my members don't have to pay for? Not the case. Read Promoter's Choices Aren't Easy
Comments (9)
Facebook Competitions - How Things Have Changed
Earlier last decade I had a problem. More online competitions were in the market than people that wanted them. In fact, even though SMS and 1900 phone competitions were established, the average comp-entrant still had a preference for old fashioned mail, stamp and all.
Read Facebook Competitions - How Things Have Changed
Comments (19)
Bye Bye Book! (for now at least)
So, after three years on sale, Competitions - The Book has finally sold out.
The last signed copy left my hands on Monday this week, and aside from my souvenir copies, and a few still kicking around bookstores, that's it.



Read Bye Bye Book! (for now at least)
Comments (7)
Any Sanity in this competition?
Sanity are running a competition giving entrants the chance to win their height in various goodies. As a competition consultant, I've always warned promoters to be careful with 'wild n' crazy' ideas that seem fun on the surface, but can potentially backfire. This is a big budget comp, and it only takes the odd complaint or two to start negative comments flowing. Read Any Sanity in this competition?
Comments (21)
Are you addicted to competitions?
So, are there any real competition addicts out there? Do you find yourself rushing to your PC every morning scanning for updates? Have you ever woken up in the middle of the night, and taken leave of your bed for an hour or two? Read Are you addicted to competitions?
Comments (80)
Lost receipts reminder
One of our members wrote to us a few days ago distressed at having won a redraw 5 months after the original. The prize was valued at $1,400, and as you may have guessed by the title of this blog, she had not kept the receipt. Ouch.
Read Lost receipts reminder
Comments (13)
Why we're doing Facebook!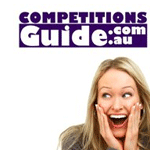 A couple of weeks ago we launched our Facebook page, which may have raised a few eyebrows. In late January we ran a blog on the topic of Facebook competitions and received a lot of negative comments on the subject. I appeared on Channel 's 'The Morning Show' to discuss the results, which I had found to be quite surprising. Read Why we're doing Facebook!
Comments (10)
What's hot at the moment?
What's the main question I'm asked, when it comes to competitions. For entrants and members, it's simple ...... "what are your tips for winning?". No brainer, that one. But, for promoters it's "what's hot at the moment?" By this, they generally refer to the prizes that are having an impact.

Read What's hot at the moment?
Comments (8)
Free online competitions, or not?
One of our keen blog comment contributors posed a question recently as to why Competitions Guide lists competitions by paid services such as Foxtel as Free-To-Enter. It's a fair question, after all, you can't really access Foxtel without paying for it. Read Free online competitions, or not?
Comments (6)